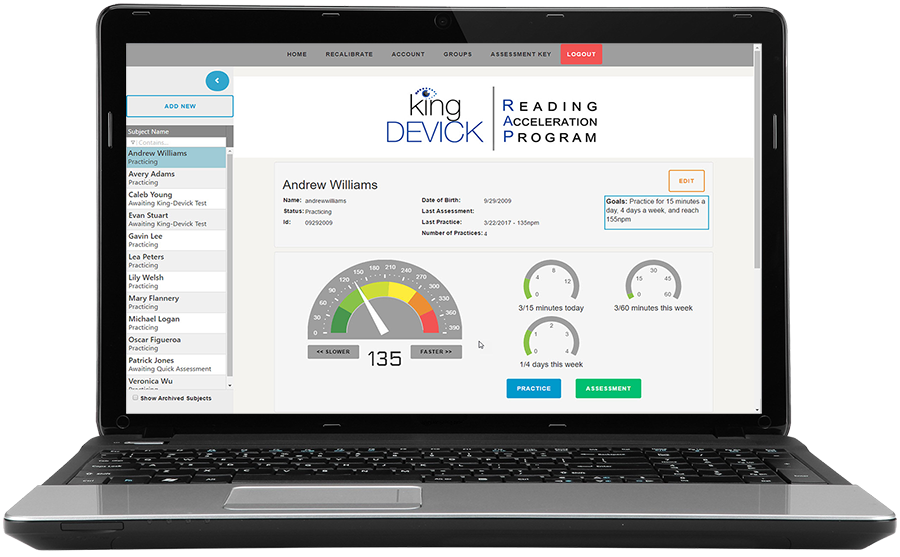 Accurate and efficient eye movements are essential to develop strong and confident readers. When younger students are learning how to read, they have imprecise eye movements resulting in slower reading performance. Eye movements are learned motor skills that, like other complex motor skills, take practice and develop with age. K-D RAP helps early readers learn how to move their eyes effectively by practicing the physical act of reading.
Proven

Over 90% of students who completed K-D RAP improved reading performance according to peer-reviewed studies published in elite journals

Quick Outcomes

Students have shown to improve reading scores in as little as six weeks

Lasting Results

Research has shown that improvements in reading remained beyond 2 years following use of K-D RAP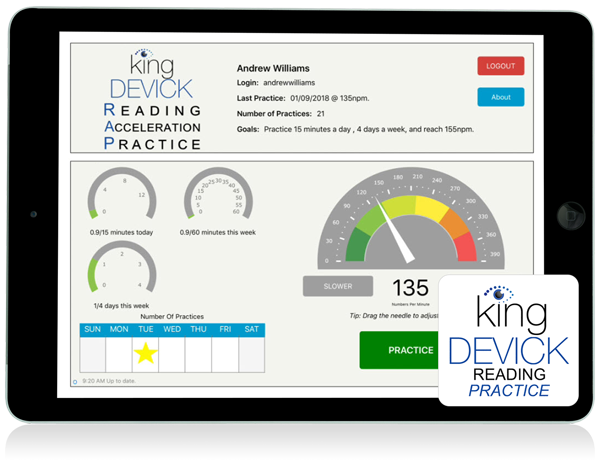 Program Features
Secure, protected cloud-based system
Compatible with 9.7" iPads or computer
Unlimited practice sessions per year
K-D Test pre-screener included before practice
Practice 10-20 minutes per day at home
Track progress and practice sessions
By teaching students the physical act of reading during this critical learning period between first through fourth grades, we can make a huge impact in education.
How K-D RAP Works
How it Works
The student's task is to read aloud dynamically presented number targets quickly on a computer or iPad. Speed settings are easily adjusted and increased with ongoing practice. Provide motivation with individual practice goals and view progress over time.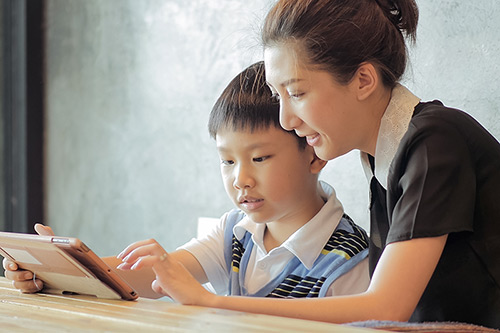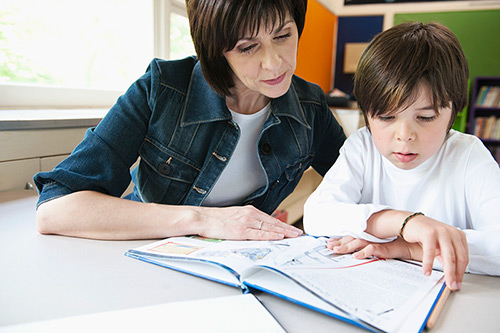 Some Facts About Eye Movements and Reading
Eye movements required for reading are like other complex motor skills that take practice and develop with age.
Vision alone accounts for more than 55% of the brain's pathways, making vision and eye movements essential for reading – a highly intricate neurological task.
Efficient eye movements may not be fully developed at the time a child learns to read.
Eye movements in younger children are imprecise, requiring more regressions in which eyes must reread text which, in turn, results in slower performance.
Specifications
iPad*
Laptop/Computer
Screen Size
9.7"+
13"+
Aspect Ratio
4:3 or 4.3:3
N/A
Resolution
1024x768 +
1024x768
Operating Systems
iOS 9+**
N/A
Compatible Browsers
N/A
Chrome, Firefox, Edge, Safari
App Location
RAP Reading: Apple App Store
RAP Recovery: Apple App Store
RAP Reading: KDt Website
RAP Recovery: KDt Website
Notes
*The Practice App can only be signed into using a subject or student account
**Automatic Speech Recognition (ASR) is not available prior to IOS11
K-D Reading Acceleration Program At Home Demonstration Video