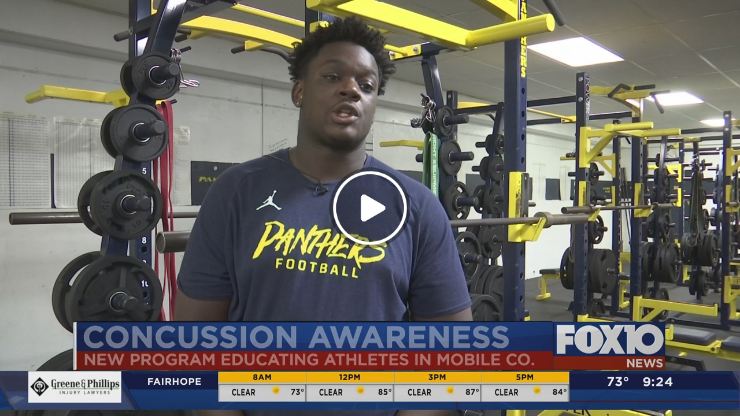 MOBILE, Ala. (WALA) -- Mobile County high school football players are safer thanks to a new initiative by USA Health that is helping identify concussions.
Partnering with United States Sports Academy, the Concussion Awareness Program was rolled out this year to help with early diagnosis on the sidelines, should an injury happen on the field.
Six Mobile County public schools and one private school have participated in the program. Thursday we got a look at how it works at Murphy High School.
Before the season starts, players undergo a series of tests. The Sideline Concussion Assessment Tool 5 (SCAT5) -- measuring their memory, cognitive skills, delayed recall, and neuro function, as well as balance.
The second test, the King-Devick test, measures eye movement and vision as it relates to how the brain is functioning.
If a player is injured - trainers are armed with both tests and conduct them on the sideline. Each test taking 30 to 60 seconds. They'll compare the results to the player's pre-season baseline results and make a diagnosis.
"If we combine these two tests... There's over a 99% chance that you are not going to miss a concussion on the sideline," explained Dr. James Toldi, USA Health. "A lot of concussions that happen go undiagnosed and that puts an athlete at risk for further complications -- not only in the short-run but also in the long-run."
"Our goal eventually is to get enough resources and funding to extend it to all sports, especially contact sports and again extend it not just within the city, but the state, and even the region," said Dr. Brandon Spradley, United States Sports Academy.
It's giving players peace of mind.
"Just like knowing one hit can possibly take you out for the rest of the game, possibly the season or maybe your career -- it's really scary. So I just try my best to not think about it," said Douglas Boyce, Murphy High School Offensive Line, #58.
The program is also educating the players about the risks of concussions.
"To where we all know -- okay this can happen. This might happen, but they have taken the precautions to where we know how to protect ourselves, how to tackle right, how to hit right... To where we don't injure ourselves in the process in practice or on the field," said Napoleon Colston, Murphy High School Defensive End, #41.
Researches at the Centers for Disease Control and Prevention say concussions can cause increased risks for brain disorders such Alzheimer's and Parkinson's diseases as well as Chronic Traumatic Encephalopathy (CTE), which research has shown to be a common brain injury in athletes.