This new objective balance measure utilizing a smart phone will be available in May 2018
OAKBROOK TERRACE, Ill., April 17, 2018 /PRNewswire/ — King-Devick technologies, inc., a leading provider of evidence- based assessment tools, today announced it has received 510(k) clearance from the U.S. Food and Drug Administration (FDA) to market their new K-D Balance™ application, which is to be used to objectively measure a patient's balance.
K-D Balance utilizes an iPhone or iPod Touch, and aids in assessing balance in individuals with conditions which could affect balance, including concussions, orthopedic injury, vestibular dysfunction, headaches, aging, neurodegenerative diseases (including Parkinson's and multiple sclerosis), medication side effects, and fatigue.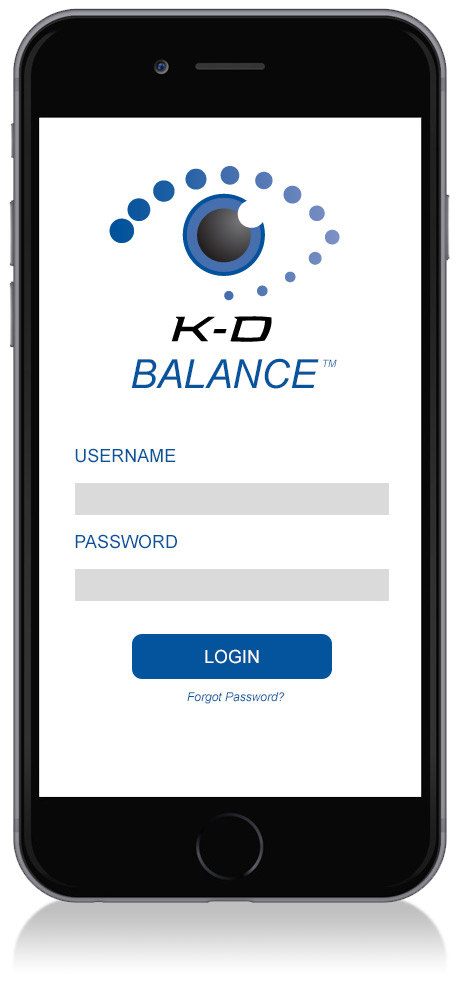 K-D Balance assesses three key balance stance metrics: double stance, right tandem stance and left tandem stance. To utilize K-D Balance, an iPhone or iPod Touch is secured to the individual with a hands-free, wearable device holder in order to provide device stabilization.   After step-by-step voice guidance for each stance, an objective balance score is automatically derived by detecting the individual's movements using the device's internal accelerometer.  Athletic trainers, physical therapists, physicians and other health care professionals can compare a patient's K-D Balance assessments longitudinally.
Other methods currently used to assess balance can be subjective and often include a single-leg stance.  Research has shown the single-leg stance to be highly variable even in healthy patients, resulting in unreliable and time-consuming evaluations.  Amaal Starling, MD, neurologist at Mayo Clinic, co-authored a peer-reviewed article published in Concussion Journal in which she raises concerns about the single-leg stance utility in the evaluation of concussion based on the study results. "Our study demonstrated that, at baseline, the single-leg stance in a commonly used subjective balance test accounted for 74% of all errors and 21% of subjects had the maximum possible error score at baseline." K-D Balance does not require, nor does it allow for measurement of single-leg stances saving clinical time and reducing the number of false positives by focusing on the three balance stances of highest value to health care professionals.
Adds Bert Vargas, MD, neurologist and Director of the Sports Neuroscience and Concussion Program at UT Southwestern in Dallas, Texas, "Our studies showed that KD Balance exhibited excellent test-retest reliability and consistently provided quantitative measures of poorer balance performance in patients with neurologic conditions like concussion, neurodegenerative diseases, and movement disorders compared to normal controls."
The Mayo Clinic Sideline Concussion Screening Protocol utilizes the King-Devick Test in association with Mayo Clinic as an integral part of its sideline protocol along with tests of dynamic balance and cognition.
K-D Balance uses secure, HIPAA-compliant cloud-based technology offering healthcare providers secure patient management. K-D Balance will be available for purchase May 2018.  For more information, visit: https://kingdevicktest.com/products/k-d-balance/
---
Read full post here